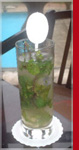 Kumiko took me to the famous Mojito bar called "La Bodeguita." Mojito is the most popular cocktail in Cuba because it uses their original rum and sugar. It is made of good rum, crushed mint, sugar and sparkling water poured on ice cubes. The congeniality of strong sunshine and Mojito is so good! We found that listening to the music was getting to be more and more fun with more Mojitos. I had such a good time then, with good drink, music and people!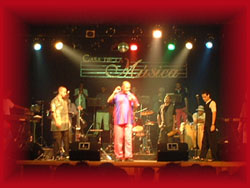 There are nice places to listen to excellent Cuban music, including Casa de la musica, the salsa Hall of Fame. From the afternoon on we can listen to fabulous salsa bands and dance every day. The Jazz Cafe, which features Latin jazz, near Marecon, is my favorite club. It has reasonable prices and marvelous bands every night. I met Roberto Fonseca (the recent pianist of Buena Vista Social Club) and his band one night. He sounded remarkable.



Also I was lucky to meet travel writer Mr. Kawashima then, and was able to accompany him on some of his interviews and photo shoots. It was an interesting experience. His gorgeous book about Cuba Discover Cuba by Yukio Kawashima may be found at
http://product.esbooks.yahoo.co.jp/product/product/
Those beautiful pictures will entice you to fly to Cuba on the spot!