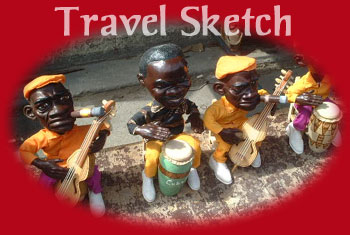 On February 23, 2002 I arrived at Havana airport in Cuba for a stay of two weeks. That winter New York was seriously freezing, below zero everyday, so I decided to get out of there to listen to hot Cuban music!



I heard about the legendary Cuban salsa/jazz bands. Great musicians in Cuba weren't allowed to play jazz music (from the USA) by the Cuban government then. So these musicians tried to think of some new uncommon music (not only jazz). Finally, they mixed jazz with their traditional Latin music! Some of the better known musicians are Arturo Sandoval, Paquito D'Rivera. The band they created was Irakere, which means jungle in African.



Of course the most famous band here is the Buena Vista Social Club. I have a couple of Cuban musician friends who told me that it's just their traditional music from a long time ago, but I didn't know that then.



My first impressions of Havana were of sand and wind, heat and humidity. It was really surprising to see American classic cars from the 40's and 50's right before my eyes. My salsa singer friend Seiko's lovely friend in Cuba, Kumiko Seto, picked me up at the airport. She is the president of the tourist company Brisa Cubana. So many Japanese tourists have been taken care of by her. She is a very friendly and sweet person. On this trip I felt I was really lucky to meet her. Actually, I still don't know how I can thank her.